Saturday, November 17 | 6:00 PM
Solebury Township, PA
On a chilly November evening, come for a new brand of hot music and a scrumptious hot dinner at the home of Linda Kenyon.
As you push open Linda's big wood door, you'll find friends waiting with spirits and hors d'oeuvres and a fire glowing in the fireplace.  Mix and mingle; then it will be time to find seats as the band tunes up.  The Blue Wave Ramblers will perform two sets of toe-tapping music with one of Linda's famous soups served during the break.    An autumnal dinner, perfectly prepared by Linda, will be ready when the music ends.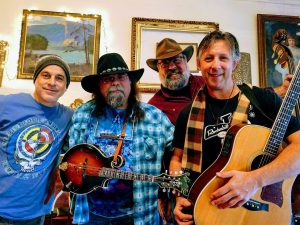 The Blue Wave Ramblers is an eclectic and somewhat unlikely band of musical brothers that skillfully combines the unique talents of members Billy Dominick on fiddle,  Graham Ford on mandolin and guitar, Dave Cohen on guitar, and Dave Haneman on bass. This group of players delivers high-energy acoustic music that's not quite bluegrass, not quite rock-n-roll, not quite New Wave—it's "bluewave."   Their hometown is "on the Delaware somewhere between PA and NJ," and they've had the name "Blue Wave" for a long time. Locally, they play at the World Café, the Barnes Foundation, Caffe Galleria, Puck, and the Ship Inn.
Warm up with the Ramblers, dinner, and good company!
Donation: $100 per person for the concert and dinner.
Please make your reservations early by calling 215-862-2021, e-mailing friends@fodc.org, or going on-line to www.fodc.org.
The location of the dinner and concert is 3015 North Sugan Road, New Hope, PA 18938.