Saturday, June 2 | 10:00 AM
Virginia Forrest Recreation Area
Looping has become our tradition for National Trails Day.   Once again, we'll be doing our part to officially enjoy America's vast network of recreational trails by biking on not one trail, but two.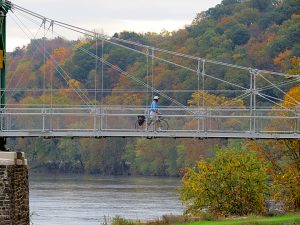 Join the Friends and the Delaware Canal State Park staff for a 9-mile bike ride on the towpath trails of both the Delaware Canal in Pennsylvania and the Delaware and Raritan Canal in New Jersey.
Bring your bike and let State Park Educator Katie Martens lead you on a guided tour.  This year the route will follow the Delaware Canal towpath south to Centre Bridge, then cross over the river bridge to connect with the D&R towpath trail in Stockton, NJ.
From Stockton, bicyclists will head north to Bulls Island NJ, then cross the pedestrian bridge to Lumberville, PA.  After a short side trip north on the towpath, everyone will head back to the Virginia Forrest Recreation Area.   A free picnic lunch of grilled hot dogs, chips, drinks, and dessert will be waiting there in the scenic Canal and riverside picnic grove created by the Friends.
Note:  Mountain bikes or hybrid tires are strongly encouraged, and helmets are required.
Please let us know if you are planning to attend by contacting the Friends at 215-862-2021 or friends@fodc.org.   It's important to know how many hot dogs to buy.
Meet at the Virginia Forrest Recreation Area, 3211 River Road, New Hope, PA 18938 (1.3 miles north of Centre Bridge)