Saturday, April 7, 2018 | 9 a.m.
Along all 58.9 miles of the Canal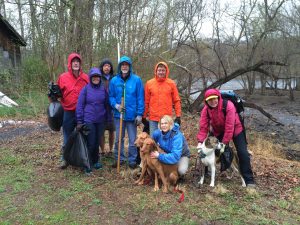 Please help!
All 58.9 miles of the Canal are ready and waiting for the Friends' annual spring cleaning.
Holding with tradition, the Canal has been divided into  32 Work Areas, and volunteer coordinators will handle the logistics for each of the Areas. On-land and by-boat clean-ups are encouraged.
If you have questions or would like to volunteer, please contact the Community Coordinator of your choice or contact the Friends' office at 215-862-2021 or friends@fodc.org.
Delaware Canal Clean-Up Day Work Areas
Saturday, April 7  – 9 a.m.
Here's the list of this year's work areas from north to south.  The names of the Clean-Up Day Coordinators or Canal Tenders are included for each area, and contact information is given for those who need assistance.   Help is especially needed in the highlighted areas.
Easton to Wy-Hit-Tuk Park
Pete Rosswaag – 610-982-9789 – ruswog@verizon.net
Williams Township: Wy-Hit-Tuk Park to Mueller's Store
Carole Mebus, Canal Tender
Riegelsville/Upper Black Eddy: Mueller's Store to Indian Rock Inn
Katie Martens, Park Educator – 610-982-0161 – kmartens@pa.gov.
Upper Black Eddy: Indian Rock to Berm Lane
Larry Reinfeld and Upper Black Eddy Rapid Response Team
Upper Black Eddy: Berm Lane to Lodi
Janice Armstrong and Steve Schlosser – Canal Tenders
Tinicum Township: Lodi to Uhlerstown
Happy and Sam Shipley, Canal Tenders
Tinicum Township: Uhlerstown to Lock 17
Appalachian Mountain Club, Del Val Chapter, and the Housewives of Rolling Hills, Canal Tenders
Tinicum Township: Lock 17 to Bridge 3
Sheree Cote and Tom Lurz  -Canal Tenders – 215- 297-0528 – kingsisl@comcast.net
Tinicum Township: Bridge 3 to Bridge 2
Peter Shaw, Canal Tender
Point Pleasant: Bridge 2 to Mountainside Inn
Hank Goldberg, Canal Tender
Point Pleasant/Lumberville: Mountainside Inn to Lock 12
Sally and Bill Getchell, former Canal Tenders
Solebury Township: Lock 12 to Virginia Forrest Recreation Area
Monica Hemmers and Steve Heimann, Canal Tenders
Solebury Township: Virginia Forrest Recreation Area to Centre Bridge
Daniel Schwager, Canal Tender
Solebury Township: Centre Bridge to Phillips' Mill
Marge Copenhaver and Aodan and Linda Peacock, Canal Tenders
Solebury Township: Phillips' Mill to Rabbit Run
David and Vicky Child, Canal Tenders
New Hope: Rabbit Run to Lock 9
Pam Can and New Hope Garden Club
New Hope: Lock 9 to Bowman's Hill


Ray and Sara Altieri, Canal Tenders
Solebury Twp./Upper Makefield Twp.: Bowman's Hill to Stoney Run Aqueduct
Central Bucks Bicycle Club – Randy and Nora Schenk, Canal Tenders
Upper Makefield Township: Stoney Run Aqueduct to Mt. Eyre Road
Gordon Heisler and Traditions Volunteers, Canal Tenders
Lower Makefield Township/Yardley: Mt. Eyre Road to Afton Avenue
Eileen Kileen and Yardley Friends Meeting – 609-947-4259 – eileenk29@yahoo.com
Yardley/Lower Makefield Township: Afton Avenue to Black Rock Road
Ann and Keith Webb, Canal Tender – 215-295-4063 –wweebbss@hotmail.com
Lower Makefield Township/Morrisville: Black Rock Road to Trenton Avenue
Hal Long and Morrisville-Yardley Area Rotary Club, Canal Tenders – 215-493-4962 – hlong2306@gmail.com
Morrisville: Trenton Avenue to Bridge Street
Mayor Dave Rivella – 215-295-5030 –mayordaverivella@aol.com
Morrisville: Bridge Street to Railroad Obstruction
Lynn Vogel and Josh Gradwohl, Canal Tenders – 215-595-6114 – lvogel419@comcast.net  A volunteer with a canoe or rowboat would be very welcome.
Falls Township: Railroad Obstruction to Tyburn Road
Jerry Taylor – 215-493-6625 –jerry.taylor35@verizon.net
Falls Township: Tyburn Road to Falls Township Park
Susan Taylor – 215-493-6625 –susanhtaylor@verizon.net
Falls Township: Falls Township Park to Mill Creek Road
Renee Thompson and Boy Scout Troop 46
Falls Township/Tullytown: Mill Creek Road to Levittown Shopping Center
Jeff Connell, Canal Tender – 732-581-9464 – jeffconnell@comcast.net
Bristol Township: Levittown Shopping Center (former Sonic) to Green Lane
Ed Armstrong and GOAL (Greenbelt Overhaul Alliance of Levittown) – edarmstrong@verizon.net
Bristol Borough: Green Lane to Lagoon Park
Brett Webber – 215-840-2034 –bw@bwadesign.com
Bristol Borough: Lagoon Park to Riverfront Park
Jose Acevedo, Canal Tender – cm317@comcast.net