Saturdays, September 30 and October 7, 14, 21, 28 | 9:00 AM
Forks of the Delaware Recreation Area in Easton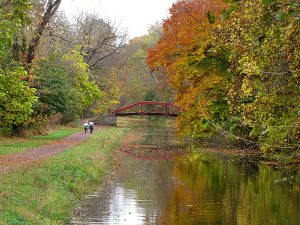 Join Canal Walk 2017
It's the Canal Walk's 30th anniversary! Tradition reigns as we start in Easton and walk downhill 58.9 miles to Bristol Borough with some special festivities in between. The Delaware Canal is always an adventure. Join us as we learn about the Canal's past, present, and future, and enjoy the company of good friends, new and old.
September 30
The Forks of the Delaware Recreation Area/Fishladder, 210 South Delaware Drive (Route 611), Easton, PA 18042 to the Indian Rock Inn, 2206 River Road (Route 32) Upper Black Eddy, PA  18972. – 13 miles
Our journey will start where Lehigh Coal and Navigation Company boats entered the Delaware Canal. Imagine the endurance and determination of the shad that make their way through the many chambers of the fish ladder. Tour Groundhog Lock with its unique power house.  Spy the delicate Roebling Bridge in Riegelsville.  Pass Durham – home to the famous furnace, limestone cave, and history-making boats.
Lunch Stop: Theodore Roosevelt Recreation Area in Raubsville
October 7
Indian Rock Inn to #2 Bridge 2 Lane, Point Pleasant, PA  18950 (use Pipersville, PA for GPS). – 11.9 miles                                                                                          
Be awed by the 300-foot-high Nockamixon Cliffs. Indulge in a sweet treat at Homestead Store. Find out what's happening at Lodi, State Park headquarters.   Step back in time in Uhlerstown, the "best preserved canal hamlet in America."  Learn how Smithtown, plows, and the famous Walking Purchase are connected.
Lunch Stop: Tinicum Park, Erwinna
October 14
Bridge 2 Lane in Point Pleasant to Bowman's Hill Wildflower Preserve, 1635 River Road, New Hope, PA  18938. – 11.7 miles
Cross the handsome timber Tohickon Aqueduct. Find out whether Devil's Half Acre deserves its name. Be charmed by Lumberville. Admire the River vistas and homes in Centre Bridge.  Hear the stories of the artists at Phillips' Mill.  Delight in the quirky tapestry that is New Hope. Discover the secrets of Lock 11 and its Locktender's House. Find out how canal boats crossed the river to get to New York.
Lunch Stop: Dilly's at Centre Bridge.
October 21
Bowman's Hill Wildflower Preserve to Black Rock Road Picnic Area, 1.7 miles south of the town of Yardley, PA  19067. – 10 miles
Take in our country's colonial history at the Thompson-Neely House, Grist Mill, and Soldiers' Graves. Learn about the unique David Library of the American Revolution. Explore the village of Taylorsville, where Washington crossed the Delaware. Spy the pole that was used to unload coal boats in Yardley. Tickle your tastebuds with a treat from Cramer's Bakery.
Lunch Stop: Washington Crossing Historic Park at Route 532.
October 28
Black Rock Road Picnic Area to Riverfront Park, Bristol, PA  19007. – 12.3 miles
Follow a great blue heron, resident of the Canal widewaters, southward. View Trenton's eclectic skyline and hear about Morrisville's founder. Trek through industrialized Bucks County and find out how the coming of U.S. Steel changed the landscape.   Be welcomed by the sight of the Grundy Clock Tower in Bristol. Celebrate the completion of Canal Walk 2017 at the "ring" by the River.
Lunch Stop: Falls Township Community Park off of Wheatsheaf Road.
All walks start at 9 a.m. sharp.  
Return to the starting point is accomplished by carpooling.
Walk any or all of the segments. A special gift for those who complete all 58.9 miles.
Please bring a light lunch.  
The walks are free, but donations to the Friends will be gratefully accepted. Becoming a member is even better.
30th Anniversary t-shirts will be available for purchase. 
 For more information, call 215-862-2021 or e-mail friends@fodc.org.
Click here for a printable PDF of the schedule. Canal Walk 2017 Full Description