Saturday, April 6, 2019 | 9:00 AM - 12:00 Noon
Along all 58.9 miles of the Canal
Mark Your Calendars!  Saturday, April 6 is Canal Clean-Up Day at Delaware Canal State Park.  The Friends of the Delaware Canal sponsor this annual event to help fulfill our mission of ensuring that the Canal is fully-watered and the towpath trail is useable over its entire length.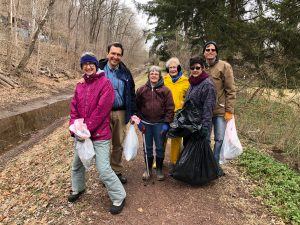 Volunteers are asked to clear trash, debris, and brush from the historic waterway and towpath from Easton to Bristol, PA.  Canal Clean-Up Day activities begin at 9 a.m. and end at noon, and volunteers will be working along the Canal's entire 58.9-mile length.
The full list of locations and contact information for individual coordinators will be posted in the coming weeks.  Your help would be greatly appreciated!