Sunday, January 28, 2018 | 2:00 p.m.
Lambertville Station Restaurant, 11 Bridge Street, Lambertville, NJ 08530
Join the Friends of the Delaware Canal and the Delaware & Raritan Canal Watch for a guided history and nature tour along both our neighboring towpaths.  This popular event is just one of the many activities to be held during the Lambertville-New Hope Winter Festival.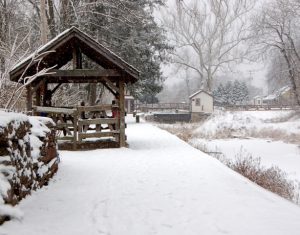 The first stop on this two-mile walk will be the D&R Feeder Canal lift lock and outlet lock to learn how canal boats once crossed the Delaware River via a cable ferry.  We'll then follow the path of the mule teams of old as we hike through Lambertville and cross the river bridge into New Hope.  Heading west, the Delaware Canal towpath will soon be found.  We'll trek southward through town to Lock 11 and the Locktender's House.  Hot chocolate with marshmallows and other goodies will be waiting inside.  For those who want to walk and see a bit more, we'll venture a short distance south to the New Hope inlet to take in the many historic sites and the glorious vistas of the River and wing dam.
The Winter Festival Walk is free and will be held weather permitting.  If in doubt, check for a Go / No Go message on the homepage, which will be posted by 7:00 a.m. on January 28th.