Tuesday, May 9 | 7:30 p.m.
Riegelsville Borough Hall
The Delaware River is unusual, and perhaps even unique, in having canals running along both its east and west banks.   To the east is the Delaware and Raritan Feeder Canal in New Jersey; to the west is the Delaware Canal in Pennsylvania.  This convenient proximity has led to the promotion of the Canal Loops. Visitors are encouraged to walk and bike on the various length loop trails comprised of the two canal towpaths and the six Delaware River bridges that connect them.
The Friends of the Delaware Canal are familiar with the two canals, but the stories of the Delaware River bridges have yet to be shared.  To fill that void, Joe Donnelly, Deputy Executive Director of Communications for the Delaware River Joint Toll Bridge Commission, will enlighten us with an illustrated presentation about the River bridges that connect the Canal Loops, the soon-to-be-constructed Scudder Falls Bridge, and some other interesting bridges to the north.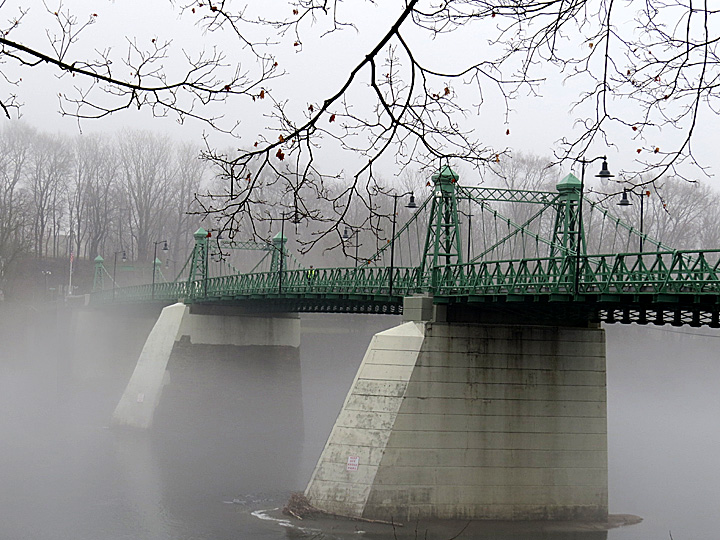 Joe Donnelly has bicycled long distances on both the PA and NJ canal towpaths, so he speaks from experience. He is known for sharing bridge history and "factoids" in entertaining ways, and he will highlight his presentations with outstanding photos.  River bridges at dawn and dusk and lit up at night are quite spectacular.  He also will tell a bit about what the Delaware River Joint Toll Bridge Commission does and its mission.
Don't miss this chance to learn about the structures that span the River.  Arrive early and see the graceful Roebling bridge or better yet walk across it to Riegelsville, NJ.
The program will be held in Riegelsville Borough Hall, 1st Floor Meeting Room, 615 Easton Road (Route 611), Riegelsville, PA  18077.
Save
Save
Save