Thursday, September 19, 2019 | 5:30 - 7:30 PM
Upper Black Eddy, PA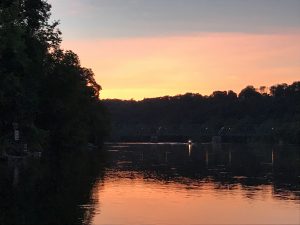 Since we missed being on the River during the Summer Solstice because of a crazy weather forecast, we are having an Autumn Equinox Cruise. As the light and dark hours of the day match each other, join us for a sunset cruise on the River Otter. This 52-foot-long pontoon boat will take us upriver and back to view a section of the River known for its spectacular sunsets and scenery.
While on board, savories, sweets, wine, beer, and soft beverages will be served. Operated by the Bucks County Riverboat Company, the River Otter is fully-equipped with restrooms and air conditioning. You'll want to make your reservations well in advance for this popular event!
"Life starts all over again when it gets crisp in the fall." – F. Scott Fitzgerald
Meet at Keller's Landing, 1469 River Road, Upper Black Eddy, PA 18972.
A donation of $50 per person is requested.
To make reservations online, use the Get Tickets form below. For more information or to make off-line reservations, email friends@fodc.org or call 215-862-2021.
See you down by the riverside!
Almost Autumn Equinox Cruise on the Delaware River – Get Tickets
Tickets to the Almost Autumn Equinox Cruise on the Delaware River aboard the River Otter are $50 per person. If you are ordering more than two tickets, please enter the total amount for your purchase.