Saturday, August 18 | 3:00 PM
Margaret R. Grundy Memorial Library
WAITING LIST ONLY.   Please call 215-862-2021 or e-mail friends@fodc.org if you would like to be placed on the waiting list.
Historic Bristol Borough is a diamond with many facets.  Join us as we discover some of its best.
Our afternoon activities will begin in the Margaret R. Grundy Memorial Library,  beautifully situated along the Delaware River.  "Paradise Ditch," a short 1950's era film about the Delaware Canal and surrounding area will be projected.  It's a real period piece including shots of mule-drawn boats, locktenders, and skinny-dipping whippersnappers taken during the preceding 25 years.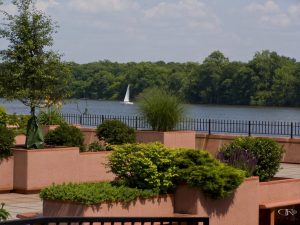 Also on view will be an exceptional exhibit, "Made in America:  The Grundy Mill and the Business of Spinning Wool."  It features the iconic woolen mill owned by Bristol Borough's foremost citizen and philanthropist, Joseph R. Grundy.  The daily lives of mill workers and the wool manufacturing process are featured, and the perspectives of industrialists and the political environment of the time are interwoven.  It's a fascinating story illustrated with compelling photographs and maps.
Outside, we'll take in the Library's lovely rooftop patio garden and walk along the Delaware River using the new Bristol History Trail.  After our Library visit, you are invited to do the Bristol Stroll on your own. (Bristol Stomping is allowed, too.)   The Stroll route will lead you down Radcliffe Street and into the center of town.  Along the way, you will see exceptional colonial and Victorian buildings , the famous Wharf, the busy new pier and dock, and the monuments in Riverfront Park.  The town's many restaurants and shops along Radcliffe and Mill Street await your visit.
There is always something good happening in Historic Bristol Borough.
This event will begin at the Margaret R. Grundy Memorial Library, 680 Radcliffe Street, Bristol, PA 19007.
This event is free, but registration is requested by calling the Friends at 215-862-2021, or emailing friends@fodc.org.