Tuesday, November 14, 2017 | 7:00 PM
David Library of the American Revolution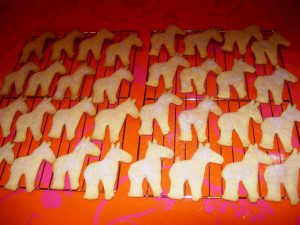 The Friends' Annual Meetings are tradition-filled.  We gather to learn, vote, express our gratitude, and enjoy each other's company.  Past events have always included a covered dish dinner, but we're going to try something new this year–just desserts.
Our special guests will be John Hallas, Director of the Bureau of State Parks–PA Department of Conservation and Natural Resources, and Jason Zimmerman, Manager of State Park Region 4.  Conditions at the State level have been very challenging of late.  They will relate how the Commonwealth's fiscal issues impact the Delaware Canal and what we, as Friends and citizens, can do.
This year's meeting will start at 7:00 p.m., and, as always, food is first on the agenda.  In this case, desserts (arguably the best of of the meal anyway).  Please bring along your favorite 4-serving dessert to share.  Plates, utensils and beverages will be provided.
After the socializing, the Annual Meeting will begin upstairs in Stone Hall.  We'll hear about the Friends' 2017 accomplishments and 2018 plans from Brett Webber, President of the Board of Directors.  Treasurer Judy Franlin will report on the organization's financial condition.  Two very special people, whose work for the Canal has been exemplary, will be recognized, and the election of members of the Board of Directors will be conducted.
Following the business portion of the meeting, we will hear from Bureau Director Hallas and Regional Manager Zimmerman about the state of the State Parks and the Delaware Canal.  They welcome your questions and comments. And last, but certainly not least, will be a presentation of photos from the Friends' past 35 years.  Happy Anniversary!  We've done a lot!
The Annual Meeting is always a highlight of the year.  Please come and bring a friend or two.  It's a good introduction to what the Friends is all about.
The meeting will be held in the Rose Gallery in the Feinstone Conference Center at the David Library of the American Revolution, 1201 River Road, Washington Crossing, PA 18977.